Digitization of objects in the Reprographic and Digitization Unit of the Wroclaw University Library takes place in several stages and with the use of tools that are selected accordingly to the type and condition of the object that goes into our hands.
The book scanners, although constructed with the assumption that working with historical objects generates many problems and limitations, are unable to provide during the digitalization process all the essential features of the original work. Therefore, after scanning the book, they go to the photo studio, where the book's body, watermarks and other elements are photographed, to which the scanning line of the scanner is unable to reach.
Photographing has one more advantage over scanning, namely it gives you the ability to manipulate the lighting. By choosing the angle of incidence of light we are able to show the surface texture of the photographed object, protuberances or reflections of light on shiny surfaces.
Recently, while browsing a batch of digital reproductions of the illuminated bible, we pointed out that the quality of reproduction of the gilt miniatures on scans leaves much to be desired. Therefore, the idea was conceived to preform an additional photo session for these specific call numbers.
The project proved to be very laborious as each reproduction had to be treated individually. Each of the miniatures required a different angle of incidence of light, which required a different calibration of the photographic system for each shot to obtain the correct color reproduction. Due to the different size of the miniatures, in order to fill the frame as much as possible, the distance between the camera and the item was different each time. Adhering to the principle that we always scale the pictures (objects are shown in a 1:1 scale), it was necessary to calculate the resulting resolution individually for each photo.
Differences in reproduction of details and imaging of glossy surfaces on the example of selected miniatures (up: book scanner, down: camera, click on the thumbnail to see the full image):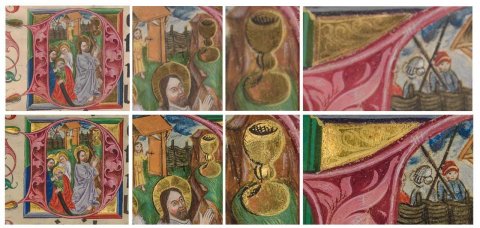 Most of the publications are still in the production stage, but some of the material can be previewed. Below are a few links to the online versions:
author: Andrzej Malenda
substantive consultation: Łukasz Krzyszczuk
miniatura: