[state on 16.01.2023]
Workflow to develop digital publications at universities
The aim of the project "Workflow to develop digital publications at universities" is: to create a virtual workbench for researchers, scientists and teaching staff of the University of Wrocław, enabling independent preparation of digital publications for online presentation and teaching using source materials.
As part of the project, as a result of 6 substantive tasks, existing IT tools will be extended and integrated into a technological sequence enabling automation of publication of scientific papers and remote work on source documents.
The project provides for the creation of three e-services, including:
1. the Aggregator of Scientific Works (ADN) – a new system enabling technical and content-related inventory of data concerning digital and analogue publications requiring digitisation;
2. the Virtual Transcription Laboratory – an existing digital service launched within the framework of the "Leopoldina" project, which will be extended with new functionalities enabling handling and automation of transcription, processing and making available of scientific publications, cultural heritage objects and source materials (manuscripts, archives, etc.)
3. the Repository of the University of Wrocław – development and expansion of the existing digital service enabling publication of scientific output of University of Wrocław employees. As part of the project, this e-service will be expanded with new functionalities allowing for more effective management of scientific publications in accordance with new mandates from the Ministry of Science and Higher Education, as well as communication with external aggregation systems aimed at promoting and disseminating research results. As part of the project, the UWr Repository will be integrated with the Transcription Laboratory in terms of automating the production of digital publications by UWr employees. E-services will be available through the portal "Leopoldina on-line". The main scope of ISP processed as a result of the project will include scientific publications and source texts from the fields of broadly understood humanities and history.
We encourage you to familiarize yourself with the events accompanying the project:
Innovation Night - Remote transcription of manuscripts
Transcription for dummies, or a few words about how you can "correct" the rector
EnrichEuropeana+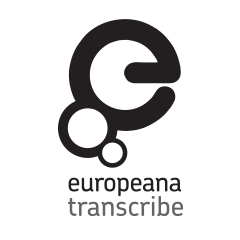 People and computers work together to unlock the treasures of the past.
University of Wrocław - University Library is a member of the European consortium selected for funding by the European Commission for the EnrichEuropeana+ project. This exciting initiative will combine citizenship science and artificial intelligence to unlock 19th century handwritten documents and make them available for researchers, students, amateur historians and the public. Irish, Dutch, German, Austrian and Croatian partner institutions will join us in this innovative project.
Goals of the project:
The archives and libraries contain a great deal of information on the history of the 19th century. Most of the original sources are available only in handwritten form and therefore are not widely accessible.
To address this problem, as part of the project, important handwritten documents will be digitized and use a combination of artificial intelligence and contributions from members of the public acting as 'citizen scientists' to transcribe these handwritten documents.
The project will use the Europeana platform, which supports the cultural heritage sector in its digital transformation, by providing one common portal for cultural heritage content from all over Europe. The current EnrichEuropeana+ project is based on previous EU-funded projects during which the Europeana platform was developed, the Transcribathon platform for crowdsourcing transcription in Europeana and the automatic transcription tool Transkribus. The project will cover the application of natural language processing and big data analytics technologies for transcription analysis and translation, providing support for the enrichment, grouping and classification of semantic metadata. What would have taken days to decrypt before can be read in minutes, saving scientists valuable time and opening up our history.
Our contribution:
University of Wrocław - University Library will provide letters form University's professors from the collection of the Manuscripts Department, minutes of meetings of the Senate of the University of Wrocław (from the University of Wrocław Archives), reports from the expedition to Siberia by prof. Stanisław Poniatowski (from the Library of the Polish Ethnological Society) and materials from the State Archives in Wrocław (cooperation within the framework of the Lower Silesian GLAM).
As part of the project, the University Library will encourage and organize members of the public to transcribe this historical, handwritten material. Handmade transcripts will create training data for AI data models.
Federation of Digital Libraries, the Polish national aggregator for Europeana will identifie relevant digital collections to be aggregated into Europeana and included in the Transcribathon platform.
After the transcription, the materials will be included again in the local resources of partner countries, in our case in the Digital Library of the University of Wrocław and will be accessible via Europeana.
The full title of the project is: Enriching Europeana with Citizenship Science and Artificial Intelligence - Unlocking the 19th century
The awarded funding amounts to EUR 921,566.
The project will be realized from 01.04.2021 to 30.09.2022.
Webpage of the project: https://pro.europeana.eu/project/enricheuropeana
Project partners:
Austrian Institute of Technology - Austria
Stichting Europeana - The Netherlands
Facts & Files of the Historisches Forschungsinstitut Berlin - Germany
Institute of Bioorganic Chemistry of the Polish Academy of Sciences - Poland
Read-Coop SCE - Austria
Provost, Fellows, Foundation Scholars and other members of the Board of Queen Elizabeth's Holy and Undivided College near Dublin - Ireland
Dublin City Council - Ireland
University of Wrocław – Poland
State Archives in Zagreb - Croatia
Thematic portal – Cultural heritage in Wroclaw University Library's research

Library's own project. This subject portal is presenting results of projects realized in WUL. Its core is database, that integrates results of projects realized in WUL's Department for Scientific Documentation of Cultural Heritage. Thanks to shared indexes and creation of unique identifiers for tagging graphical files in all collections, it is possible to browse all collections with dynamic interface.
Database is available from 1.07.2013 at the address:
https://dk.bu.uni.wroc.pl
As a part of the subject portal preparation an unify system of internet addressing for all databases in domain https://dk.bu.uni.wroc.pl is being implemented.
More information about creating databases for cultural heritage (in English):
Żurek Adam, Joanna Pawliniak, Digitization of Cultural Heritage and Databases for Historical Sciences - Together or Separately?
https://www.inforum.cz/proceedings/2012/19/
Digital Library of Wroclaw University

Digital Library of Wroclaw University project is conducted on basis of self funds of Wroclaw University Library. Digital Library offers access to the oldest written texts, educational collections and exhibitions, which present most interesting materials chosen from rich collections of Wroclaw University Library.
Digital Library collections include digitized materials that due to their historical value, content, form and regional scope, are European or regional cultural heritage. For the process of digitization the following types of materials are selected: books (including old prints), periodicals, manuscripts, photographs, music scores, maps, postcards, graphic collections as well as educational sources, exhibitions and other. Territorial scope of Cultural heritage collection includes almost whole European region, and Regional collection includes whole Silesia and Lusatian regions, with specially stressed - Lower Silesia region and city of Wroclaw.
Digital collections include the following categories:

- cultural heritage
- periodicals
- ephemera
- books edited between 1800 and 1945
- manuscripts
- old prints
- graphic collections
- cartographic materials
- music collections
- catalogs of WUL
- educational materials
- regional materials
- bibliological collections
- e-WUL Publisher
CEE MASTER

Coordinator of CEE MASTER project is National Library in Prague. WUL has participated in that project since September 2003. Aim of that project is to create manuscript catalog database that is accessible via internet and includes descriptions of manuscripts from countries from Central and East Europe, processed on basis of MASTER standard in XML language (eXtensible Markup Language). Wrocław University Library pledged to enter to the database at least five manuscripts descriptions weekly.
RISM

On the basis of cooperation with RISM Central in Frankfurt am Main, started in 1997, Wroclaw University Library participates in creation of computer database of music manuscripts from European libraries. That database is accessible via internet (from Sales Nisc portal) and on CD-ROMs.