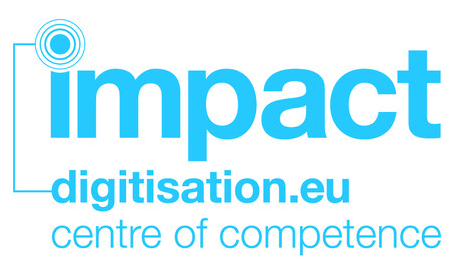 What is the IMPACT Centre of Competence in Digitisation?
The IMPACT Centre of Competence in Digitisation is a non-profit organisation with the mission to make the digitisation of historical printed text "better, faster, cheaper". It provides tools, services and facilities to further advance the state-of-the-art in the field of document imaging, language technology and the processing of historical text.
The IMPACT Centre of Competence builds on the R&D of partners from the IMPACT (Improving Access to Text) EU funded project and brings together a productive network of experts in digitisation including libraries, scientists, industry partners and digitisation professionals. The IMPACT Centre of Competence aims to further this collaboration, building a sustainable environment that will allow research institutes, private sector partners and cultural heritage organisations to work together to continue to improve access to historical texts.
Which are the benefits of joining the IMPACT Centre of Competence?
The IMPACT Centre of Competence in Digitisation offers:
Access to a unique network, bringing together different communities of digitisation practitioners, content holders, researchers, technical experts, and service providers.

Support to showcase, test and evaluate the latest OCR tools and techniques.

Documentation of all IMPACT tools for OCR and language processing, with links to the tool providers.

Access to digitisation expertise, learning resources and online training.

Access to the unique IMPACT image collection, ground truth dataset and language resources.

Participation in special working groups on digitisation standards.

Access to new projects and funding opportunities.
How do I join the Centre?
Standard membership: For institutions and individuals that wish to get support in their digitisation programmes, to actively engage with the network for expert advice, share and set best practice, showcase tools and resources, and obtain access to a part of the content that IMPACT Centre of Competence offers.

Premium membership: For institutions looking to cooperate actively in the development of the Centre, implement and further development the IMPACT Centre of Competence tools, become a member of the IMPACT Centre of Competence Board, obtain access to the full range of IMPACT Centre of Competence facilities including free or discounted access to IMPACT Centre of Competence events and conferences.
If you are interested in joining as member, please send your contact details to:
info[w]digitisation[kropka]eu.
For a quick and up-to-date overview of what is available in this field you may become a registered user of the Centre for free, just sign up:
www.digitisation.eu/sign-up
Who is behind the Centre?
The IMPACT Centre of Competence is promoted by:
Koninklijke Bibliotheek
Bibliothèque Nationale de France
British Library
Instituut voor Nederlandse Lexicologie
Fraunhofer-Gesellschaft zur Förderung der angewandten Forschung
Poznań Supercomputing and Networking Center
Fundación Biblioteca Virtual Miguel de Cervantes
Universidad de Alicante
Planman Technologies
Today, the Centre is managed by the Fundación Biblioteca Virtual Miguel de Cervantes. The Centre headquarters are located at the facilities of the Fundación Biblioteca Virtual Miguel de Cervantes, Plaza Manuel Gómez Moreno, 2, Edificio Mahou (anexo), 3º, 28020, Madrid (España).
Where can I find additional information?
To learn more about the Centre, please visit: www.digitisation.eu or register at: www.digitisation.eu/sign-up/

To join the Centre and for any questions and comments, please send an email to: info[w]digitisation[kropka]eu, or call: +34 965909370 - Alicia Blaya